VOLER Gold Thousand Mile Club Short Sleeve Jersey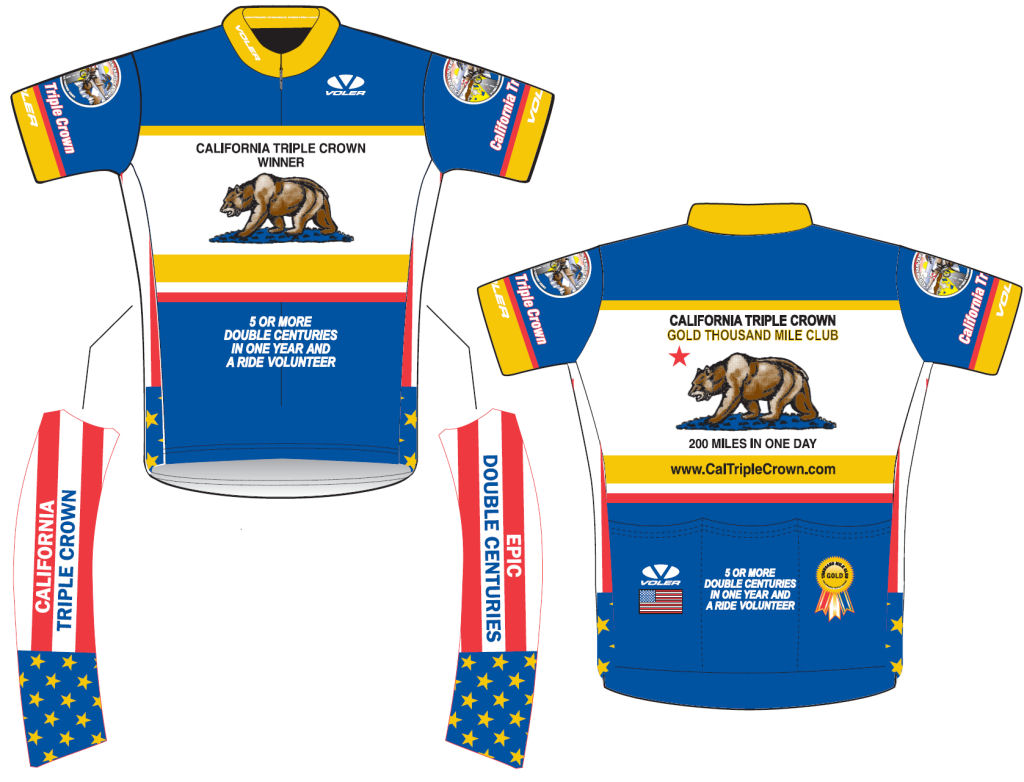 Features:

"5 Or More Double Centuries In One Year And a Ride Volunteer" on the Front and on the Back Pocket
The Gold in this Jersey is not a Yellow and not a Brown ... it's a true shade of Gold that looks awesome with the Brilliant Reflex Blue and the Red Trim. This graphic doesn't do it justice -- it has to be seen to be believed!!






The Red, White, and Blue color combo is really really nice. The stars are Gold on each side. Note the red stripes on the sleeves tie in with the red stripe around the front and back as well as the red stripes on the sides.
California Triple Crown logo in 5 Brilliant Colors is sublimated on each sleeve.






Check out that "GOLD Thousand Mile Club" Ribbon on the Back Pocket!!
"Gold Thousand Mile Club" is outlined in Gold letters for accent on the back



"California Triple Crown" on the Right Side with Gold Stars below.
"Epic Double Centuries" on the Left Side with Gold Stars below.
In the collar you will find: "We Believe in the power of Giving Back. And Never giving up. We Believe in Bikes." - Lance Armstrong and Trek
The idea for this Jersey came from many riders over the past few years but Frank Neal really led the charge in making this Jersey a dream come true. As a result, I promised Frank that he would be awarded the first Gold Thousand Mile Club Jersey out of the box. In December of 2008, it was my honor to present Frank with his new Jersey and when he put it on, we both were BLOWN AWAY at how AWESOME it looked on him. The Gold, Blue, and Red combination is REALLY nice as you can see here:

Designed by Jim Poppy, a California Triple Crown Gold Thousand Mile Club Winner. A HUGE THANKS to Jim!!
Long hidden 19 inch zipper
This Voler Jersey option is fully sublimated and will not be customized with the rides that you finished but will be a Jersey you will feel proud to wear for years to come
Club Jersey sizing for a Relaxed Fit (see below)
This California Triple Crown Voler Jersey will look GREAT on you!!
This design does not include the year on it ... so you can order it if you ever completed Five or More California Triple Crown Double Centuries in one calendar year and supported at least one of them. Of course, we expect and want to see you on the Double Century circuit again in the future ... in your Voler Jersey!! These rides can only continue if volunteers (spelled Y-O-U) jump in and help. Support means that you and/or a family member or friend volunteered to help with a California Triple Crown Double Century. It's not enough to just ride the rides because if that's all everyone does, these major adventures will go the way of the dinosaurs!! It's not easy running Rest Stops 200+ Miles from nowhere so each of these rides need YOUR help. Besides that, it's fun to help out your fellow cyclists and get a chance to talk to some really great people. Active Double Century riders cannot donate their volunteer days to other riders.
Manufactured by VOLER Team Apparel
Price: $59 for remaining 3/4 Hidden Zipper Jerseys
$79 for new FS Pro Full Zipper Jerseys - After 2018, Voler only makes Full Zipper Jerseys and these are the new Top of the Line FS Pro Jerseys
Orders will be filled on a first come, first served basis. Check Inventory


These Jerseys are sized the same as in past years. Some cyclists have found them to be snug.
In addition, if you like Chocolate Chip Cookies as much as I do, you may find that these Jerseys are fitting a little tighter than past years. :)
Also, if you want to wear any layers under your Jersey, you might want to consider one size larger than you think you might need.


| | | | | | |
| --- | --- | --- | --- | --- | --- |
| Sizing Chart for VOLER Jerseys | S | M | L | XL | 2XL |
| Chest | 35-37 | 38-40 | 40-42 | 42-44 | 44-46 |
| Waist | 29-31 | 32-34 | 35-37 | 38-41 | 42-45 |

[ Home | Products Table of Contents | Last Product | Next Product ]