2008 Tour of California
Stage 6: Santa Barbara to Santa Clarita
Photos from Balcom Canyon
By Greg Mill and Livia Peraza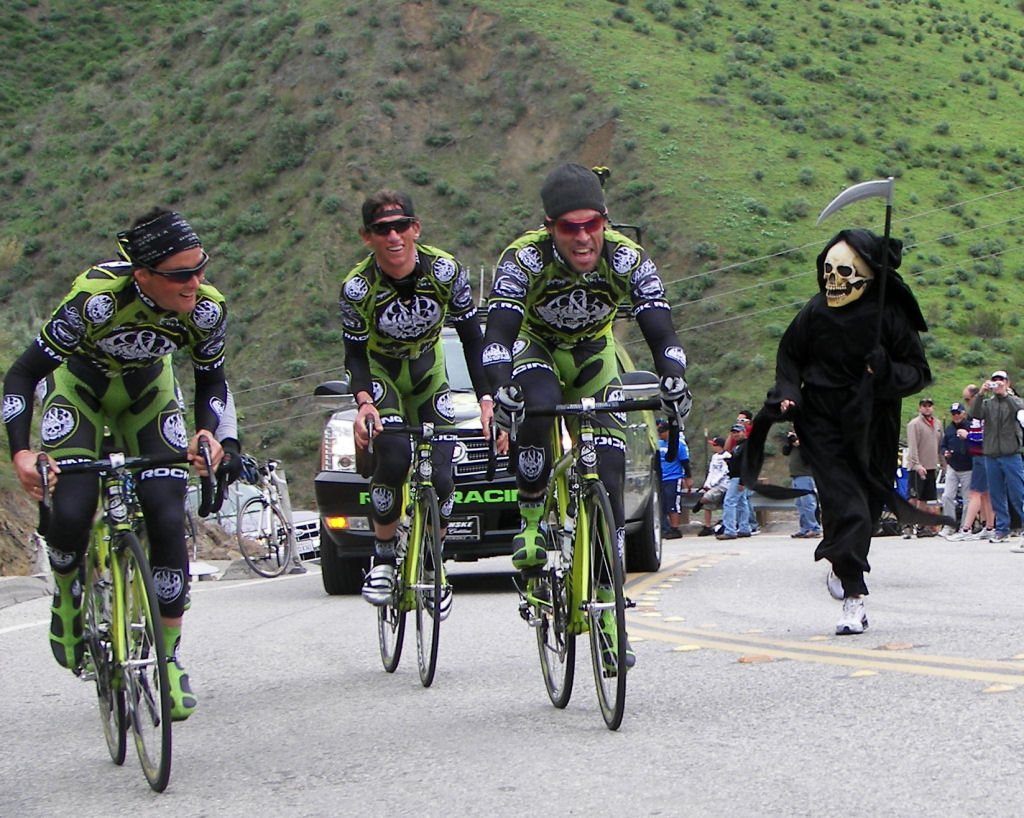 The Grim Reaper was pleased to see Oscar Sevilla Rivera, Tyler Hamilton, and Santiago Botero
from Rock Racing riding the course ahead of the peloton!!


These photos were taken on February 23, 2008 on the steep Balcom Canyon climb on Stage 6 of the 2008 Amgen Tour of California

Checkout 71 of Greg Mill's and Livia Peraza's favorite photos from their Kodak Camera
Click on any of the small thumbnails to bring up the medium size version.
Click on the medium size version to bring up the large size version.
Photos on this page were taken by Greg Mill and Livia Peraza unless otherwise noted.

Checkout Chuck Bramwell's favorite photos

The Balcom Canyon climb is brutally steep with 18-24% pitches.
It's a true work of art as shown by the Elevation Profile and Gradient chart HERE.
Climbing 434 feet in .65 miles for an Average of 13.2%, this climb is one of many beauties showcased on the Mulholland Double Century
at mile 120 where it's a real killer that certainly takes your breath away!!
The Mulholland Double has over 16,400 Feet of Climbing in 200 Miles!!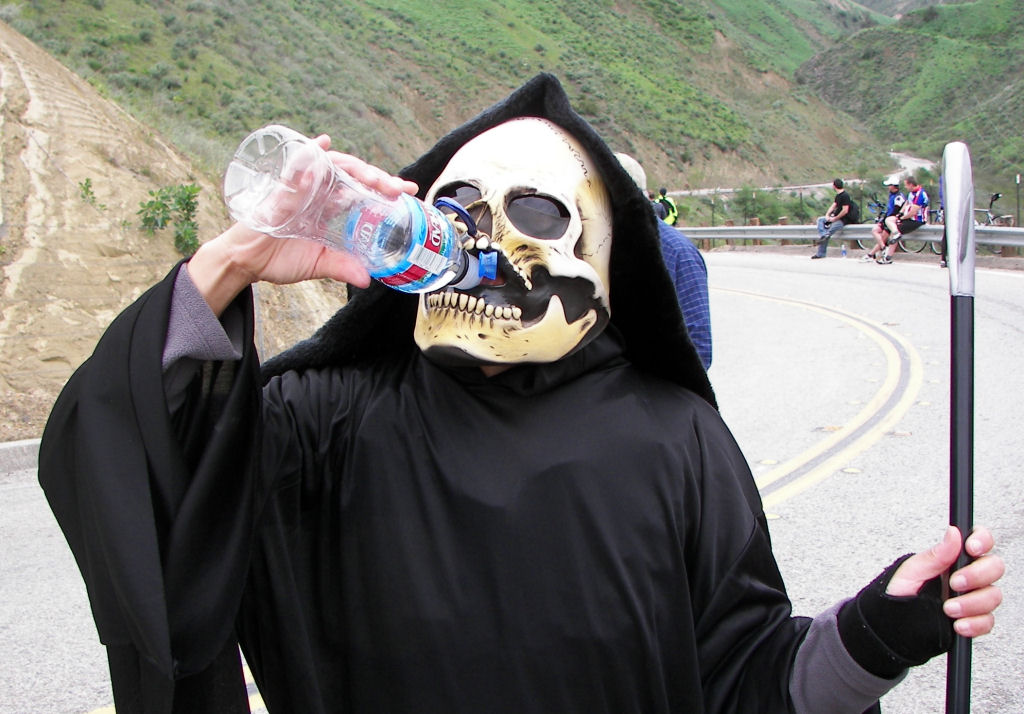 It's easy for Grim Reapers to get dehydrated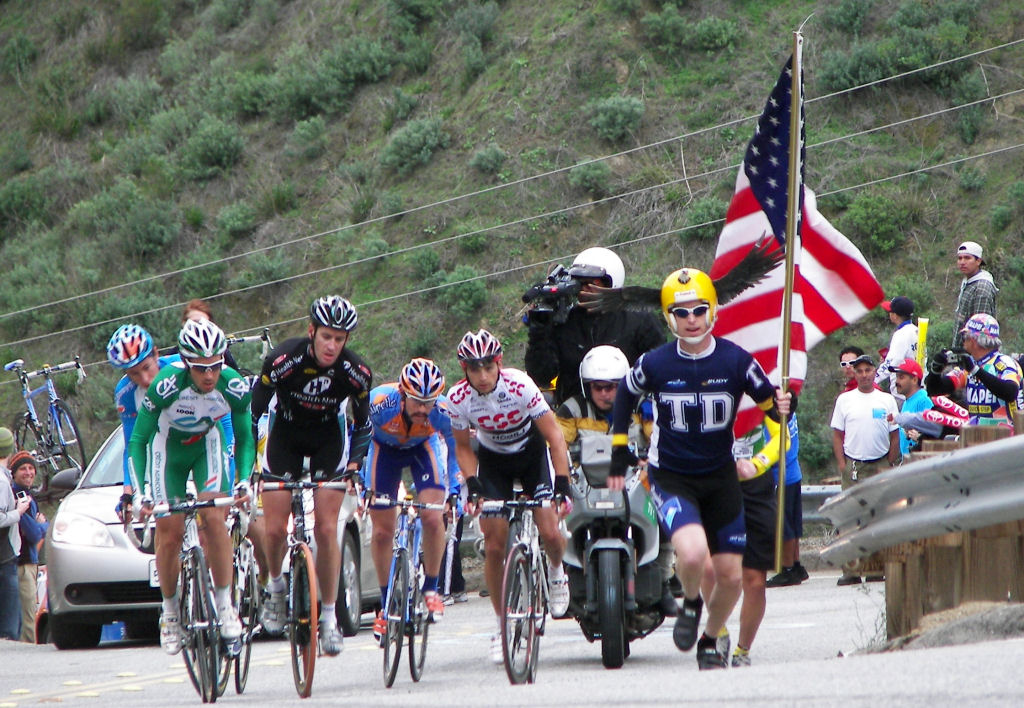 The 6 man break works their way up the steep pitches of Balcom Canyon Road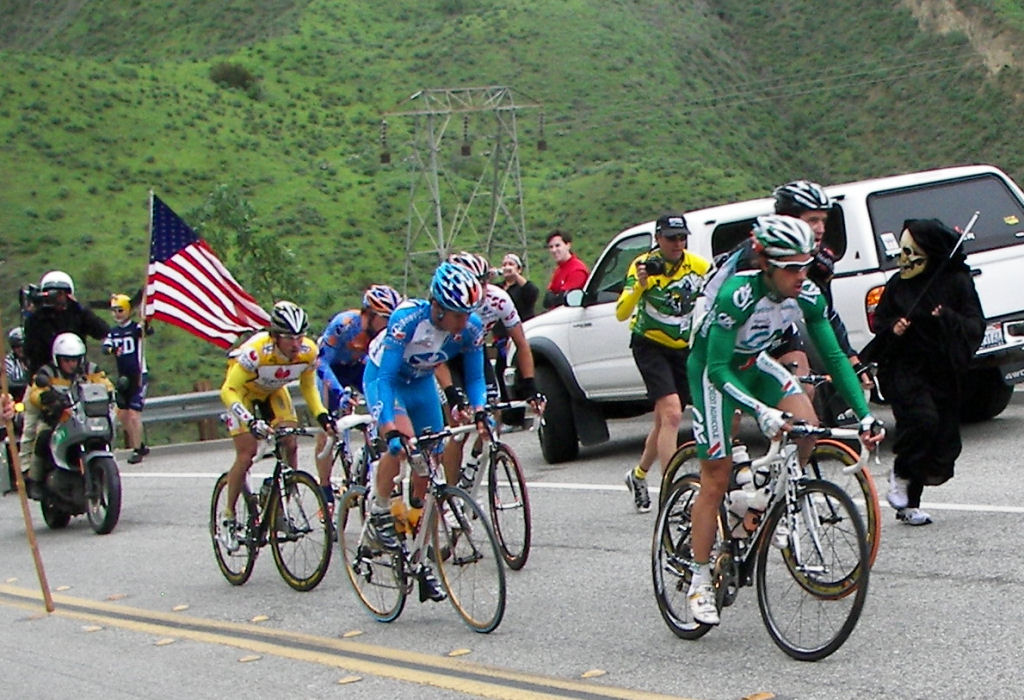 Christophe Le Mevel from Credit Agricole leads the group up the steep piece of road!!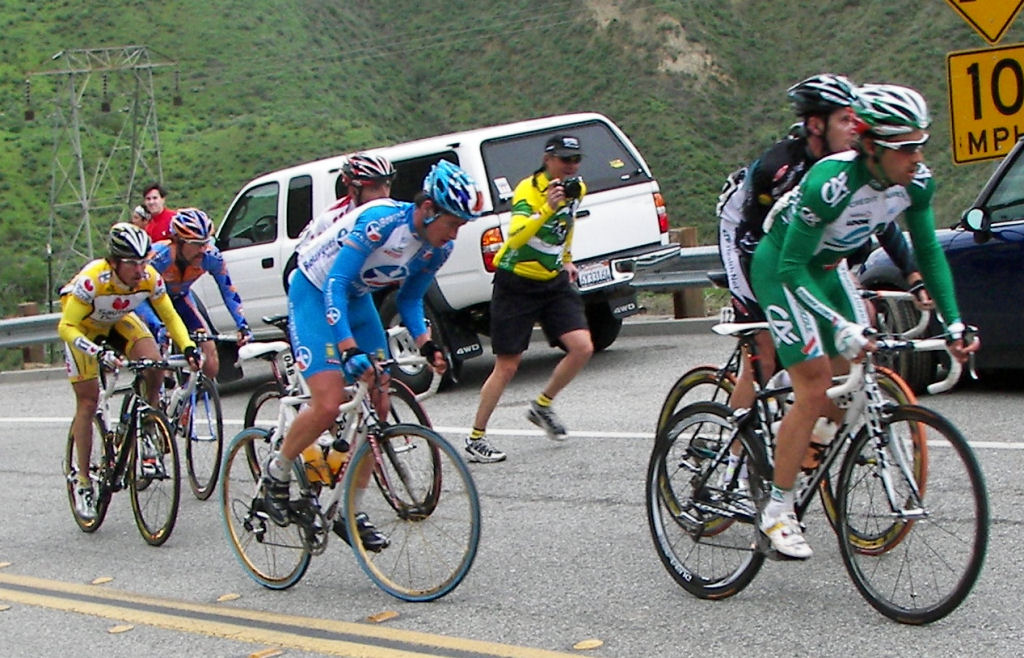 Alexandre Pichot from Bouygues Telecom in the Blue and White Jersey works to stay in contact with Christophe Le Mevel in front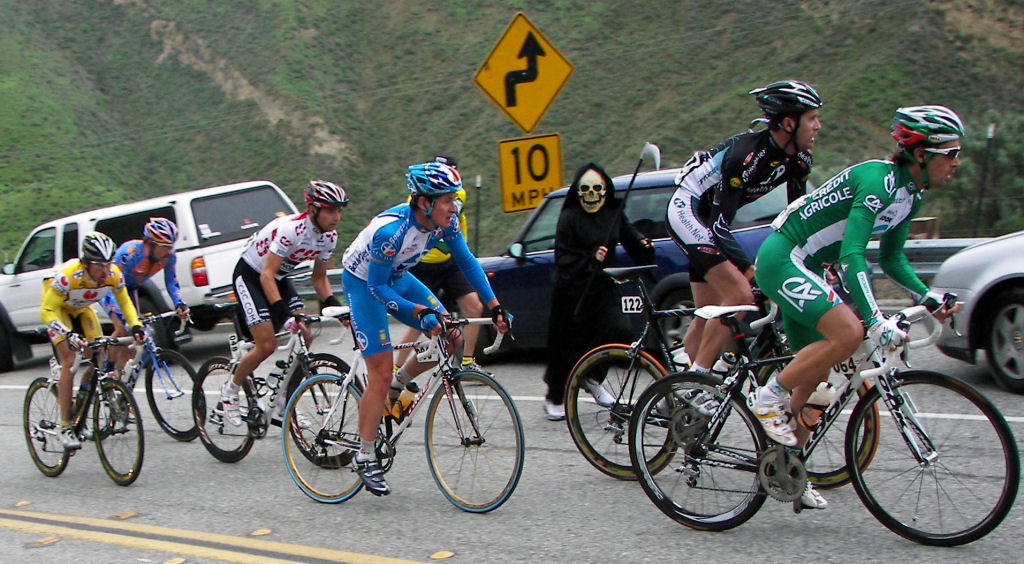 The Grim Reaper looks for leftover victims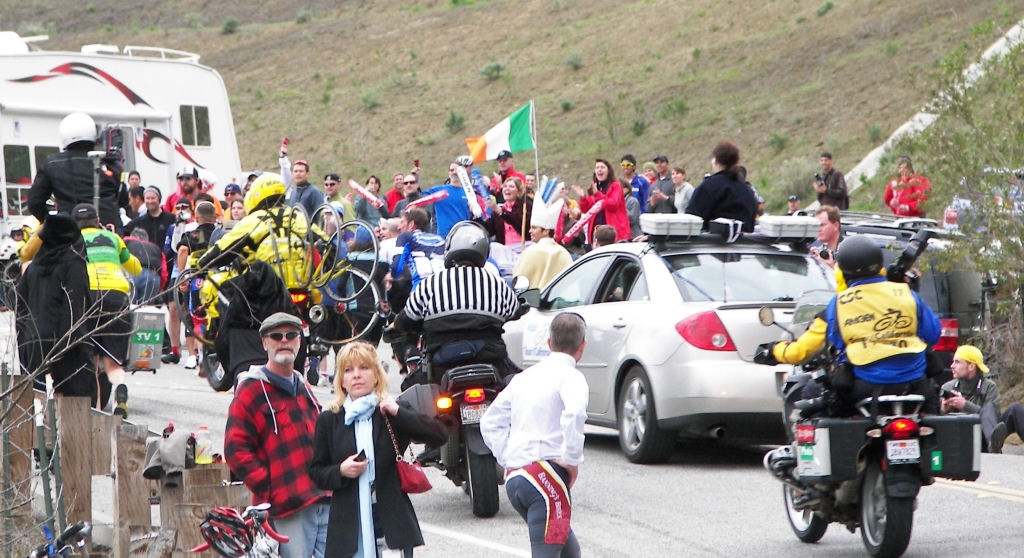 Total mayhem follows the 6 man break up the steep Balcom Canyon Road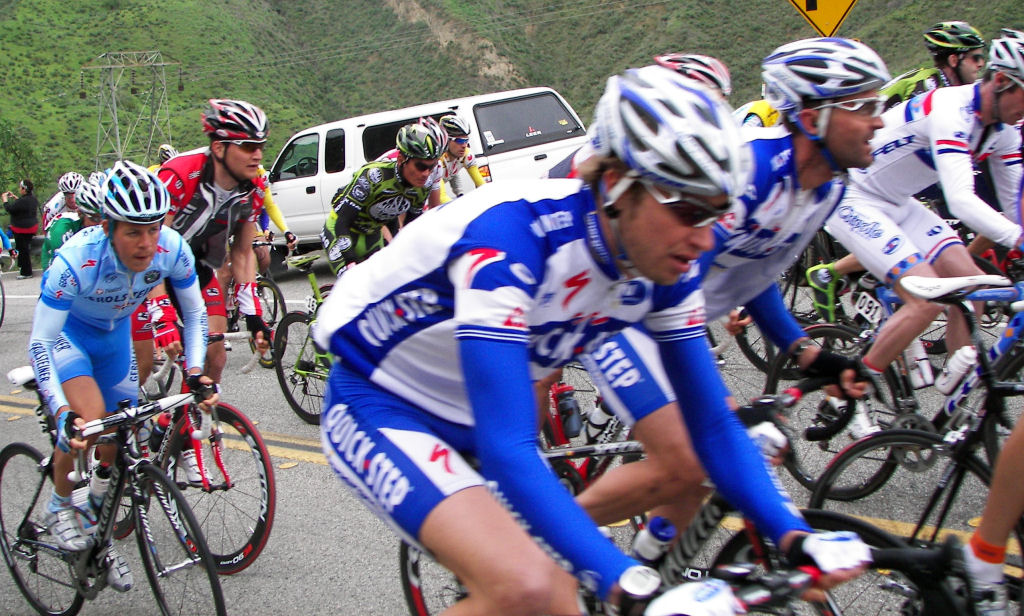 Bernard Kohl from Gerolsteiner follows the Quick Step boys up the climb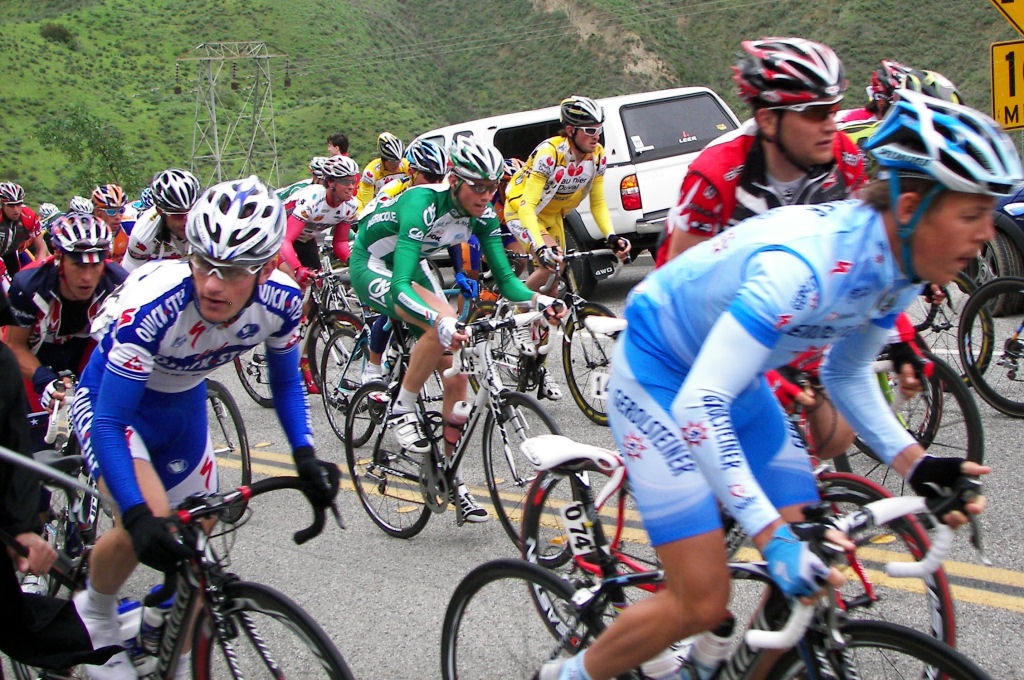 The Quick Step rider checks out how ugly the Grim Reaper is on his right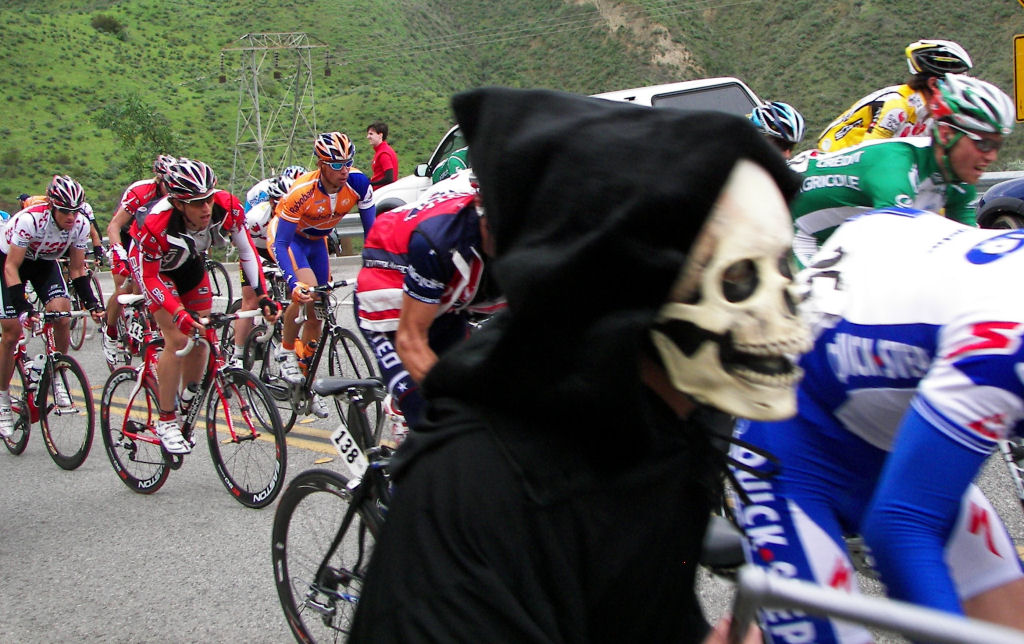 The Grim Reaper running hard to stay up with the peloton
Close examination of Scott Zwizanski #143 from Bissell shows he's probably in a 27 tooth cog on this climb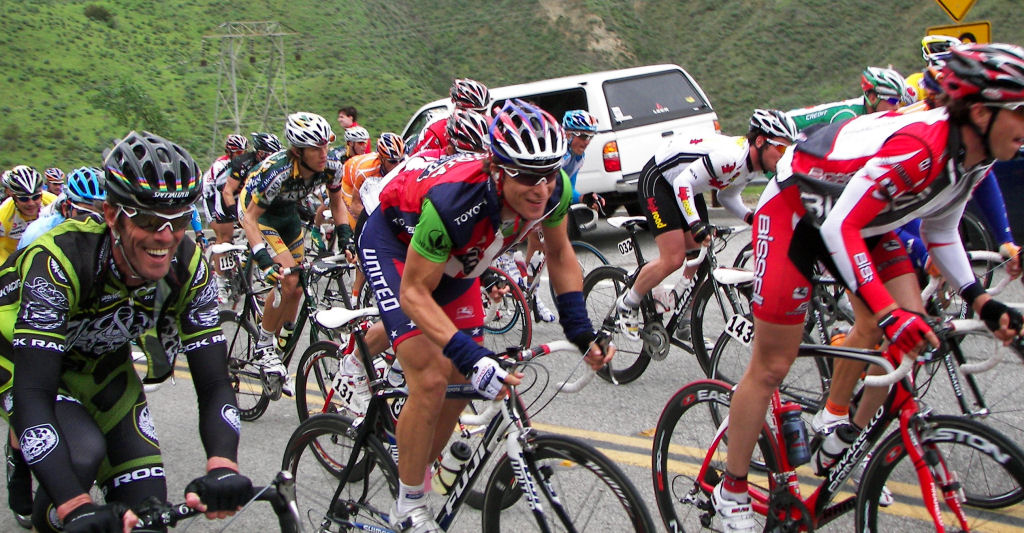 Mario Cipollini gets a big laugh out the Grim Reaper.
It was so great to see Mario come out of retirement at age 41 and ride the Tour of California so well!!
Canadian Dominique Rollin #131 from Toyota United rides next to Super Mario.
Dominique won the brutally long and hard Stage 4 into San Luis Obispo two days before.
Mark Cavendish #032 from High Road works the steep road on the far side.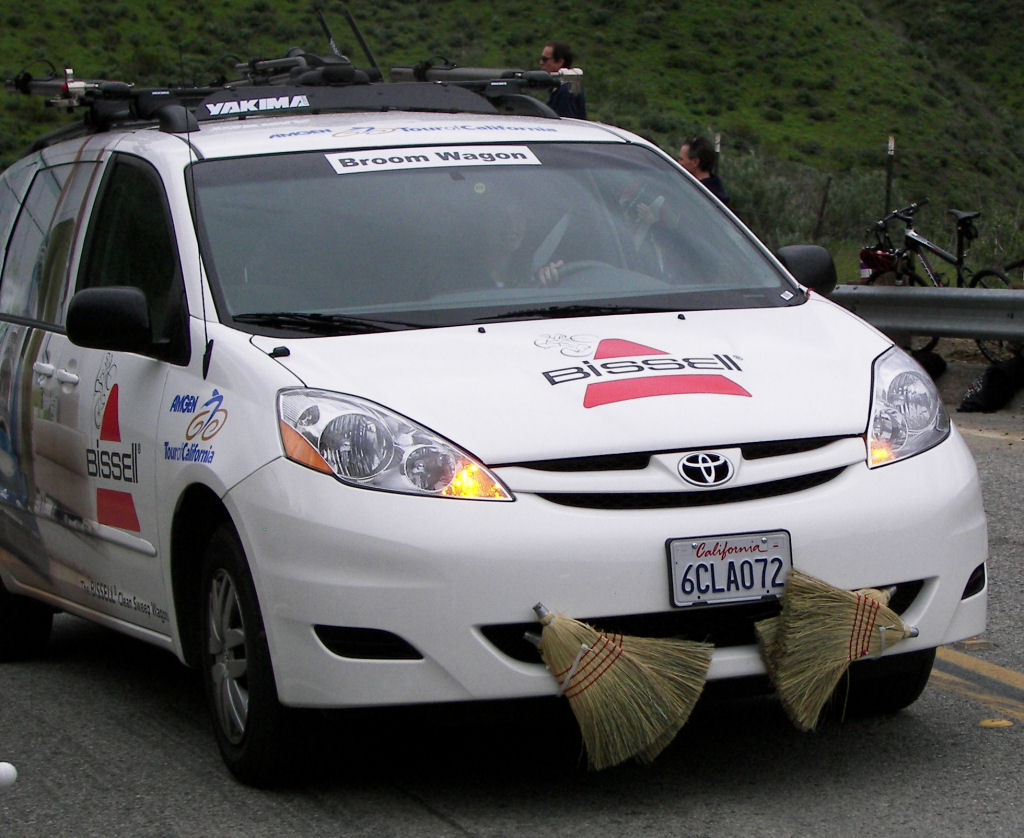 The Bissell Broom Wagon sweeps the end of the course

Long live the Amgen Tour of California showing how great cycling is in California!!