Michael Secrest's 24 Hour World Cycling Record
By Chuck Bramwell, California Triple Crown Guy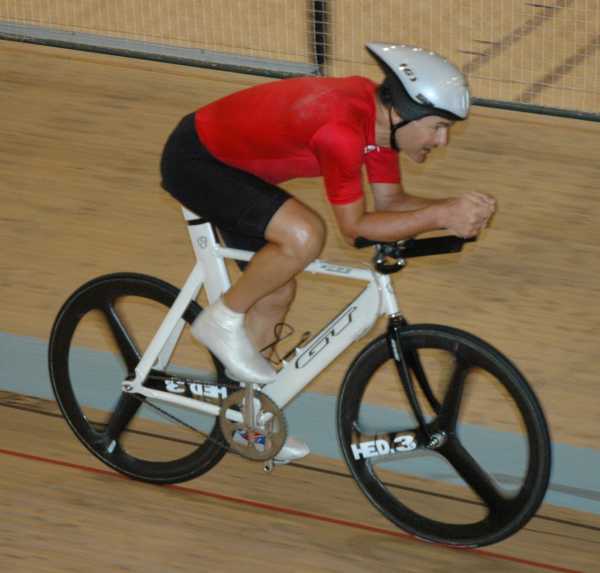 Putting down the hammer!!


These photos were taken from the 24 Hour World Cycling Record by Michael Secret
at the ADT Event Center (L.A. Velodrome) near the end of the 24 Hours on October 23, 2006.

87 Photos of my favorite photos are HERE.
Click on any of the small thumbnails to bring up the medium size version.
Click on the medium size version to bring up the large size version.

Chris Kostman took some great photos earlier in the ride HERE.
Michael started on Sunday, October 22, 2006 at 9:10 A.M.
and finished on Monday, October, 23, 2006 at 9:10 A.M.

Michael rode a 55 x 16 gear the entire ride.

Michael had ridden 3190 laps at the end of Hour 22.
Since each lap is 250 meters, this is 797.5 km = 495.6 miles

He had ridden 3317 laps at the end of Hour 23 = 829.25 km = 515.4 miles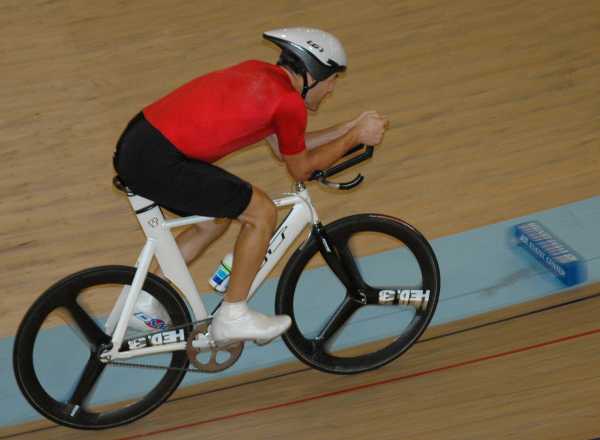 Michael was extremely smooth even after 23 Hours on the bike!!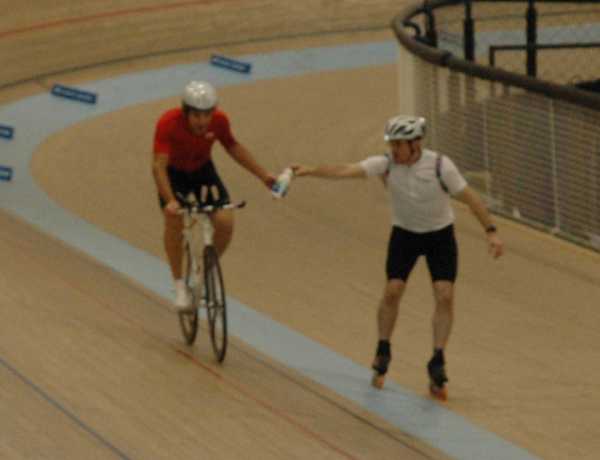 Crew chief / inline skater Frank J. Fedel does a smooth water bottle handoff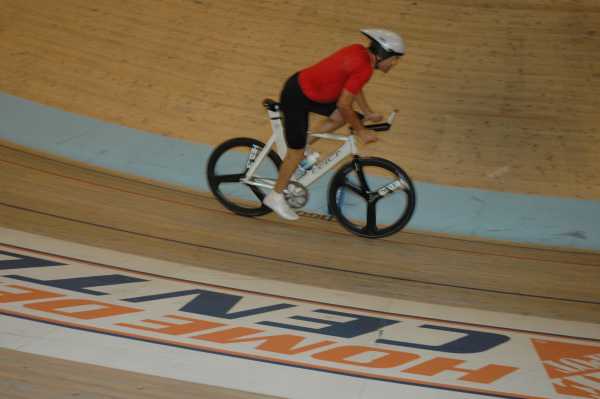 This photo was taken at 8:37 A.M. and Michael is looking good.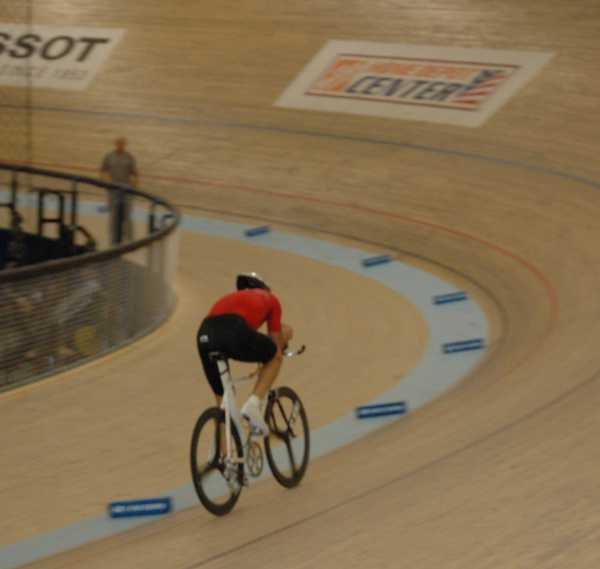 Heading into the final turn after 23 Hours, 59 Minutes, and 53 Seconds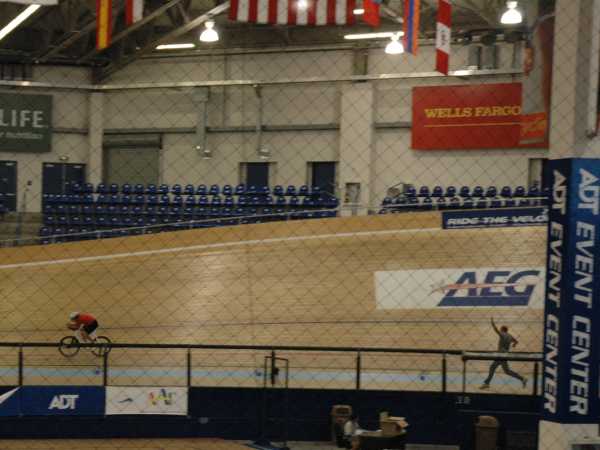 Official Kurt Wochhotz marks the spot at exactly 24 Hours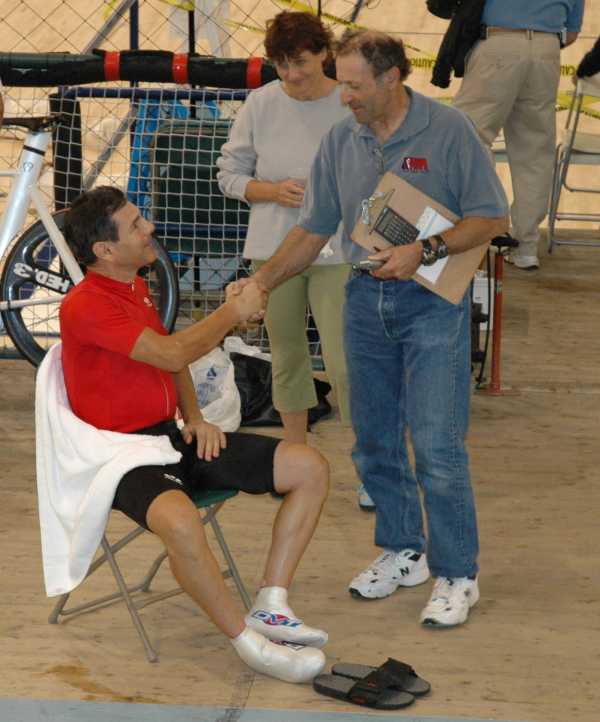 John Marino, the Father of the Race Across America, was the head
Ultra Marathon Cycling Association Official.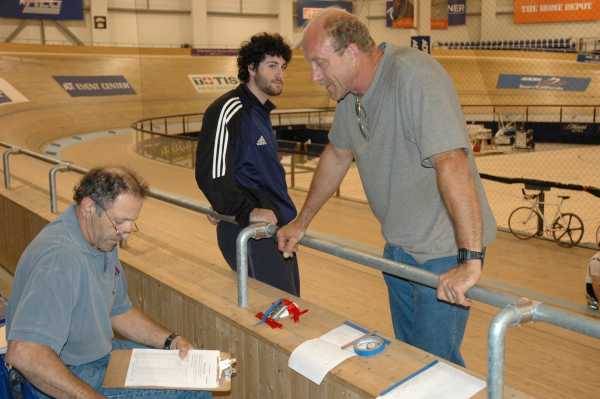 John, Kurt and Marino's son John confer about the distance.
The official distance will be certified soon but it appears that
Michael Secrest covered 534.7 Miles in 24 Hours
for a total average speed of 22.28 Miles Per Hour!!

Michael Secrest's Website is HERE.

On October 6-7, 2006, Samuel Nagel rode 872.895 km = 542.39 miles in 24 Hours
on an indoor velodrome in Switzerland.
Photos on Nagel's web site and larger photos HERE show that he wasn't wearing a helmet.
The UMCA Record Attempt Rules specify that "The rider must wear an ANSI-approved helmet
and it must be properly secured at all times while riding."
The UMCA has reviewed both record attempts and determined that there were two material violations
in Nagel's excellent ride. He did not wear a helmet and used a rolling start resulting
in a 45 minute penalty resulting in an adjusted distance of 525.44 miles as explained HERE.

As I left the velodrome, Michael was going to be drug tested.
It was my pleasure to witness the finish of Michael Secrest's most excellent ride.