2003 California Triple Crown
Thousand Mile Club
It's one thing to complete Three Double Centuries in a year -- it's a whole other matter to complete Five or More Doubles in a single year. This report shows those Cyclists who have ridden at least One Thousand Miles in Double Centuries in 2003!!
These select riders will have an additional banner added to their California Triple Crown Jersey / T-Shirt specifying "Thousand Mile Club".
All you have to do (as though this part is supposed to be easy) is register for and complete at least five of the Doubles on the schedule. When you're done, fill out a California Triple Crown Registration Form so I know which rides you completed and which ones you supported.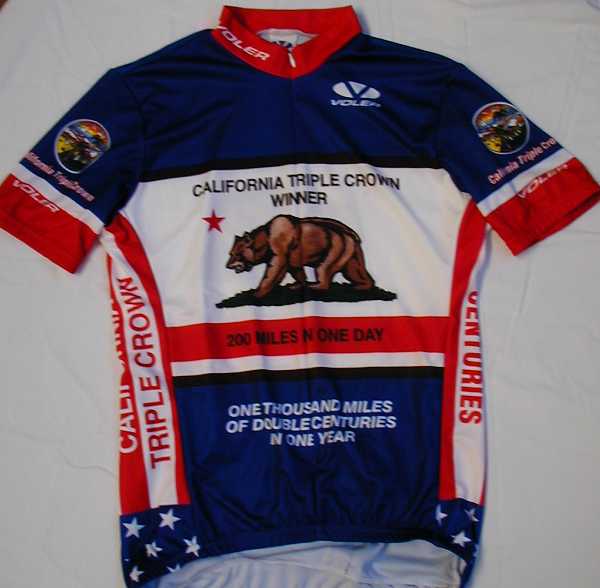 You can order a Thousand Mile Club Jersey HERE!!
Ride
Abbreviation

Name

Date

Posted Below?

Orders
Doubles on Orders Processed

Y

03BF
Butterfield Double
2/15/03

Y

03DVS
Death Valley Spring Double
3/01/03

Y

03SV
Solvang Double
3/29/03

Y

03HM
Hemet Double
4/12/03

Y

03MH
Mulholland Double
4/12/03

Y

03DM
Devil Mountain Double
4/26/03

Y

03RR
Ridge Route Double
5/03/03

Y

03CC
Central Coast Double
5/10/03

Y

03DAV
Davis Double
5/17/03

Y

03HB
Heartbreak Double
5/24/03

Y

03ES
Eastern Sierra Double
6/14/03

Y

03GT
Grand Tour
6/21/03

Y

03TT
Terrible Two
6/28/03

Y

03KV
Knoxville Fall Classic Double
9/20/03

Y

03TF
Tour of Two Forests Double
9/27/03

Y

03DVF
Death Valley Fall Double
10/18/03

Y

Registration Forms Processed?

Y

Sprt
# Doubles Supported

Y
Below is the final report showing those Cyclists who have completed five or more of the Doubles in the 2003 Season. This report doesn't show the hard work and determination that went into the completion of each of these most difficult rides. These are truly epic Double Centuries and each one is a Major Adventure in itself!!

This same report is also available in Microsoft Excel format with the column headings frozen so they are always at the top of the page.
| Name | Total | Age | 03BF | 03DVS | 03SV | 03HM | 03MH | 03DM | 03RR | 03CC | 03DAV | 03HB | 03ES | 03GT | 03TT | 03KV | 03TF | 03DVF | Sprt |
| --- | --- | --- | --- | --- | --- | --- | --- | --- | --- | --- | --- | --- | --- | --- | --- | --- | --- | --- | --- |
| ABRAHAMS, MARK | 5 | 47 | | | | | | Y | | | Y | Y | | | Y | Y | | | |
| ASTRUE, ELAINE | 5 | 38 | | Y | Y | | | | | Y | | | | | Y | Y | | | |
| AXTELL, JOHN | 6 | 43 | | Y | | | | Y | | | | Y | Y | | Y | Y | | | 1 |
| BARTHOLIC, KEN | 6 | 62 | | | | | | Y | | Y | | Y | Y | Y | | Y | | | |
| BEAM, JOHN | 8 | 51 | Y | | Y | | Y | | | Y | | Y | Y | Y | | Y | | | |
| BERG, BRUCE | 5 | 57 | | | | | | | | Y | Y | Y | Y | | Y | | | | 1 |
| BERRY, STEVE | 7 | 57 | | | Y | Y | | Y | | Y | Y | | Y | | Y | | | | |
| BJERGA, LASSE | 5 | 50 | Y | Y | Y | | | | | Y | | | Y | | | | | | |
| BOWLING, BRIAN | 10 | 30 | Y | Y | | | Y | Y | | | | Y | Y | Y | Y | Y | Y | | 1 |
| BRAMWELL, CHUCK | 8 | 52 | | Y | Y | | Y | Y | | | | Y | | | Y | Y | | Y | 1 |
| BREED, CAROL | 8 | 47 | | Y | Y | | | Y | | | Y | Y | | | Y | Y | Y | | |
| BRIDGES, LESTER | 5 | 51 | Y | Y | Y | | | | | | Y | | | | | Y | | | 1 |
| BROWDER, CHRIS | 5 | 45 | | | | | | | | | Y | | Y | | Y | Y | Y | | |
| BROWN, BARCLAY | 5 | 45 | Y | | | Y | | | | | | | | Y | | Y | | Y | |
| BRUCE, BRANDON | 5 | 0 | | Y | Y | | | | Y | | | Y | | | | Y | | | |
| BUNTROCK, ROBERT | 8 | 39 | Y | Y | Y | | | Y | | | Y | | Y | | Y | Y | | | 1 |
| BURNETT, PETER | 6 | 41 | | | | | | Y | | | Y | Y | Y | | Y | Y | | | |
| Name | Total | Age | 03BF | 03DVS | 03SV | 03HM | 03MH | 03DM | 03RR | 03CC | 03DAV | 03HB | 03ES | 03GT | 03TT | 03KV | 03TF | 03DVF | Sprt |
| --- | --- | --- | --- | --- | --- | --- | --- | --- | --- | --- | --- | --- | --- | --- | --- | --- | --- | --- | --- |
| CALDWELL, WAYNE | 5 | 50 | | | Y | Y | | | | | Y | | | Y | | | | Y | |
| CAMMELL, RUSSELL | 5 | 57 | Y | | Y | | | | | | | | Y | Y | | | Y | | |
| CHOI, ROBERT | 5 | 43 | | | Y | | | Y | | Y | | Y | | | Y | | | | |
| CLARE, JOHN M | 5 | 39 | Y | Y | Y | Y | | | | | | | | Y | | | | | |
| CLARE, JOHN T | 14 | 62 | Y | Y | Y | Y | | | Y | Y | Y | Y | Y | Y | Y | Y | Y | Y | 3 |
| CLEMES, DAVID | 6 | 52 | | | Y | | | Y | | | Y | | Y | | | Y | Y | | 1 |
| COLE, DALE | 5 | 53 | | Y | Y | | | | | | Y | | Y | | | | | Y | |
| CONNOLLY, MICHAEL | 5 | 53 | | Y | Y | | | Y | | | Y | | | | | Y | | | 3 |
| CRAM, MED | 5 | 41 | | | Y | | | Y | | | Y | | Y | | Y | | | | |
| DEHANKE, MARK | 11 | 55 | Y | | Y | | Y | Y | | Y | Y | Y | | Y | Y | Y | Y | | |
| DERMER, SHARON | 6 | 52 | | | Y | Y | | | | | Y | | Y | Y | | Y | | | |
| DODGE, DARYN | 5 | 44 | | | Y | | | Y | | Y | Y | | | | Y | | | | 1 |
| EVANS, DAVID | 12 | 66 | Y | | Y | | Y | Y | | Y | Y | Y | Y | Y | | Y | Y | Y | |
| FANTE, THOMAS | 5 | 52 | | | Y | Y | | | | | Y | | | Y | | Y | | | |
| GRANTNER, RICHARD | 6 | 58 | Y | | Y | Y | | | | | | | Y | | | | Y | Y | |
| GRATTAN, DOUG | 8 | 40 | | Y | Y | | | Y | | | Y | Y | | | Y | Y | Y | | |
| GRIFFICE, CHARLES | 10 | 55 | Y | Y | Y | | Y | Y | Y | Y | Y | Y | | Y | | | | | 1 |
| Name | Total | Age | 03BF | 03DVS | 03SV | 03HM | 03MH | 03DM | 03RR | 03CC | 03DAV | 03HB | 03ES | 03GT | 03TT | 03KV | 03TF | 03DVF | Sprt |
| --- | --- | --- | --- | --- | --- | --- | --- | --- | --- | --- | --- | --- | --- | --- | --- | --- | --- | --- | --- |
| HANSON, RON | 6 | 62 | Y | | | Y | | | | | | Y | Y | Y | | Y | | | |
| HILL, DALE | 5 | 42 | | | Y | Y | | | | | | | | Y | | | Y | Y | |
| HOFF, RICHARD | 6 | 50 | Y | Y | | Y | | | | | Y | | | | | Y | | Y | |
| HOLDEMAN, DAVE | 5 | | | | Y | | Y | | | Y | | | | Y | | Y | | | |
| HOLLOWAY, KEN | 5 | 51 | | | | | | Y | | Y | Y | | | | Y | Y | | | |
| HONDA, NICOLE | 5 | 37 | | | Y | | | | | | Y | | Y | | Y | Y | | | |
| HOUCK, TIMOTHY | 6 | 54 | Y | | Y | | | | | | Y | | | | Y | Y | Y | | 2 |
| HUEBERT, LARRY | 6 | 45 | | | | Y | | Y | | Y | Y | | | Y | | Y | | | |
| IGNACIO, FRANCIS | 6 | | Y | Y | | | Y | | | | | Y | | Y | | | Y | | |
| JENSEN, FRANKLIN | 7 | 62 | Y | Y | Y | | Y | | | Y | | | Y | Y | | | | | 1 |
| JONES, DAVID | 5 | 57 | Y | Y | Y | | Y | | | | | | | Y | | | | | 1 |
| JONES, TIM | 5 | 46 | | Y | | Y | | | | | Y | | Y | | | Y | | | 1 |
| KAIN, BOB | 5 | 42 | | | Y | Y | | | | | | | Y | Y | | | Y | | |
| KASHIMA, MICHELLE | 6 | 44 | Y | | Y | Y | | | | | | Y | Y | Y | | | | | 1 |
| KATANO, LYNN | 7 | 45 | Y | | Y | | | | | Y | Y | | Y | Y | | Y | | | 7 |
| KAYE, CHARLES | 6 | 50 | Y | | Y | | Y | | | Y | | | Y | | Y | | | | |
| KELLNER, PETER | 5 | 46 | | Y | Y | Y | | | | | | | | | Y | Y | | | |
| KOPIT, PAUL | 6 | 60 | Y | Y | | | | | | | | | Y | Y | | Y | Y | | 1 |
| LANDAUER, JEFF | 10 | 36 | | Y | Y | | | Y | | Y | | Y | Y | | Y | Y | Y | Y | 3 |
| LAWRENCE, THOMAS | 5 | 37 | | Y | Y | | Y | | | | | Y | Y | | | | | | |
| LICHTENSTERN, FRED | 5 | 46 | | | | Y | | | | | | Y | Y | | | | Y | Y | |
| LINERT, ED | 7 | 44 | Y | Y | Y | Y | | | | | | Y | | Y | | | Y | | |
| LONG, JOHN A | 7 | 60 | | Y | Y | | | | | | Y | | Y | Y | | Y | Y | | 2 |
| LONG, JOHN D | 9 | 52 | Y | | Y | Y | | | | | Y | | Y | Y | | Y | Y | Y | |
| LYNCH, COLIN | 5 | 49 | | | Y | | | Y | | | | Y | | | Y | Y | | | |
| Name | Total | Age | 03BF | 03DVS | 03SV | 03HM | 03MH | 03DM | 03RR | 03CC | 03DAV | 03HB | 03ES | 03GT | 03TT | 03KV | 03TF | 03DVF | Sprt |
| --- | --- | --- | --- | --- | --- | --- | --- | --- | --- | --- | --- | --- | --- | --- | --- | --- | --- | --- | --- |
| MACDONALD, ROBERT | 5 | 60 | Y | Y | Y | Y | | | | | | | Y | | | | | | 1 |
| MAINZ, TONY | 5 | 44 | | | | | | Y | | Y | Y | | | | Y | Y | | | |
| MAXEY, MICHAEL | 5 | 33 | | | Y | | | | | Y | Y | | | | Y | Y | | | |
| MC KENZIE, PAUL | 5 | 48 | | | Y | | | Y | | | | Y | | | Y | Y | | | |
| MCMENAMY, ED | 5 | 59 | | | Y | Y | | | | | Y | | | | | Y | Y | | |
| MULLINS, BRUCE | 5 | 47 | Y | Y | Y | | | | | | | | | Y | | Y | | | |
| NEAL, FRANK | 10 | 52 | | Y | Y | Y | | Y | | Y | Y | Y | | Y | | Y | | Y | 1 |
| NORRIS, ERIC | 5 | 43 | Y | | | | | Y | | | Y | | | | Y | Y | | | |
| O KANE, TOM | 5 | 54 | Y | Y | Y | | Y | | | | | | Y | | | | | | 2 |
| PACINI, RALPH | 5 | 53 | | Y | Y | | | | | | Y | | Y | | | | Y | | 1 |
| PALMER, BILL | 5 | 46 | | Y | Y | | | | | Y | | | | Y | | | Y | | |
| PANG, KEN | 5 | 47 | Y | Y | Y | | | | | | Y | | | | | | Y | | |
| PARISH, MARK | 7 | 41 | Y | | Y | | | | | Y | | Y | Y | Y | Y | | | | 1 |
| PARKES, TOM | 11 | 60 | Y | Y | Y | | Y | | | | Y | Y | Y | Y | | Y | Y | Y | 1 |
| PATTERSON, DOUG | 6 | 43 | | | Y | Y | | | | | Y | | | Y | | Y | Y | | 3 |
| POLES, GARY | 5 | 40 | Y | | Y | Y | | | | | | | | | | | Y | Y | |
| POLLOCK, GRAHAM | 6 | 36 | | | Y | | | | | | Y | | Y | | Y | Y | Y | | 1 |
| RATHMAN, THOMAS | 5 | 58 | | | Y | Y | | | | | Y | | Y | | | | Y | | 1 |
| REDMOND, ROBERT | 5 | 44 | | Y | | | | Y | | | Y | | | | Y | | Y | | |
| ROBBINS, JOHN | 6 | 63 | | | Y | Y | | | | | Y | | Y | Y | | Y | | | |
| ROBBINS, KAREN AYDELOTT | 6 | 57 | Y | | | Y | | | | | Y | | Y | Y | | Y | | | |
| ROBERTSON, CRAIG | 7 | 46 | Y | | Y | | | Y | | Y | Y | | | | Y | Y | | | 3 |
| ROBINSON, STAN | 6 | 47 | | | Y | | Y | | | | Y | Y | | Y | | Y | | | 1 |
| RODENBERG, KEN | 5 | 50 | Y | | Y | | Y | | | | | | | Y | | | Y | | |
| Name | Total | Age | 03BF | 03DVS | 03SV | 03HM | 03MH | 03DM | 03RR | 03CC | 03DAV | 03HB | 03ES | 03GT | 03TT | 03KV | 03TF | 03DVF | Sprt |
| --- | --- | --- | --- | --- | --- | --- | --- | --- | --- | --- | --- | --- | --- | --- | --- | --- | --- | --- | --- |
| SAAVEDRA, JORGE | 6 | | Y | | Y | | | | | | | | Y | Y | | | Y | Y | |
| SANCHEZ, JESSIE | 5 | 46 | | | Y | Y | | | | | Y | | | Y | | Y | | | 1 |
| SCHMIDT, ROB | 8 | 45 | | | Y | Y | | | | Y | | | Y | | Y | Y | Y | Y | 1 |
| SHARBAK, DAVID | 6 | 42 | Y | Y | Y | Y | | | | | Y | | | Y | | | | | |
| SKIPPER, TIM | 9 | 45 | Y | Y | Y | | Y | | | Y | | | Y | Y | | Y | Y | | |
| SMITH, ALAN | 5 | 42 | Y | Y | Y | | | | | | Y | | Y | | | | | | |
| SMITH, BRACKEN | 5 | 37 | Y | Y | Y | | | | | | Y | | Y | | | | | | |
| SMITH, SEAN | 5 | 24 | | | | | | Y | | | | Y | Y | | Y | | Y | | 1 |
| STEWART, ANNA | 5 | 42 | | | | | | | | | Y | | Y | Y | | Y | | Y | 1 |
| STEWART, RICK | 5 | 45 | | | | | | | | | Y | | Y | Y | | Y | | Y | 1 |
| STURGILL, MICHAEL | 9 | 44 | Y | | Y | | Y | | | | | | Y | Y | Y | Y | Y | Y | 1 |
| TABANGCURA, ARIEL | 5 | 38 | | | Y | Y | | Y | | | Y | | | Y | | | | | |
| TAMANAHA, MARK | 5 | 34 | Y | | Y | | | | | | Y | | | | Y | Y | | | |
| TAVOIAN, BRIAN | 5 | 38 | Y | Y | Y | | Y | | | Y | | | | | | | | | |
| THAKAR, TERTIUS | 5 | 42 | | | Y | | | | | | Y | | Y | | Y | Y | | | |
| TOMASSON, LARRY | 5 | 55 | Y | | Y | | | Y | | | | Y | | | Y | | | | |
| WALTMIRE, CATHERINE | 10 | 55 | Y | Y | Y | Y | | | | | Y | | Y | Y | | Y | Y | Y | 2 |
| WALTMIRE, WICK | 9 | 59 | Y | Y | Y | | | | | | Y | | Y | Y | | Y | Y | Y | 2 |
| WARNER, STEVE | 6 | 47 | Y | Y | Y | | | | | | Y | Y | Y | | | | | | 1 |
| WARREN, MICHAEL | 9 | 57 | | | | Y | | | Y | Y | | Y | Y | Y | | Y | Y | Y | |
| WAY, RON | 5 | 68 | Y | | Y | | | | | | | | Y | Y | | Y | | | |
| WILDIN, ROWENA | 7 | 47 | | Y | Y | | | | | Y | | Y | Y | Y | | | | Y | 1 |
| WILSON, CRAIG | 6 | 51 | | | | | | | | | Y | Y | Y | Y | Y | Y | | | |
| WILSON, ERIC | 5 | 51 | | Y | | | | | | | | Y | Y | Y | | | Y | | |
| WOLFF, LONNIE | 6 | 46 | Y | | Y | | Y | | | Y | | | Y | Y | | | | | 2 |
| WOUDENBERG, TIMOTHY | 6 | 46 | | | | | | Y | | Y | Y | | Y | | Y | Y | | | |
Return to California Triple Crown Home Page